Holzspecht Automatic Wooden Watch Hockkönig
The 2941 meter high mountain Hochkönig in Salzburg is part of the Berchtesgaden Alps and their highest mountain range. The Hochkönig is one of the most prominent mountains in the Alps and towers over all peaks within a radius of about 34km. The view from the summit, overlooking the surrounding mountains and the glacier landscape, is wonderful. Viewed from the valley, the Hochkönig massif offers wonderful contrasts from the forested regions, the transition to the treeless zone and the rocky sections above the tree line.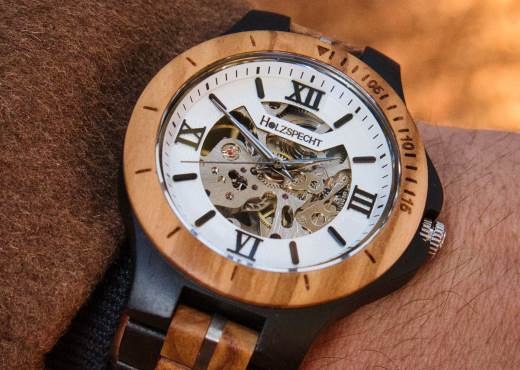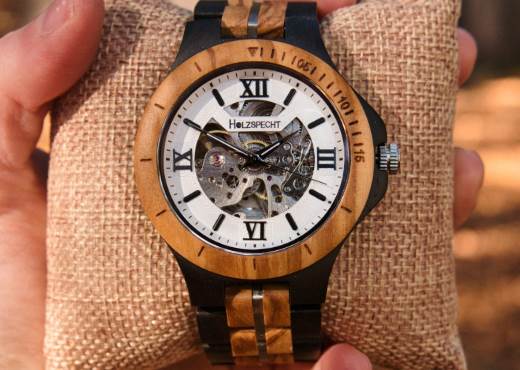 Wide field of view
This interplay and the wide view from the summit are the inspiration for Holzspecht's automatic watch of the same name. This combines wood and metal and brings a piece of the power of nature to your wrist.
The Hochkönig mountain offers a wide view of the surrounding mountains. Holzspecht's automatic watch made of wood and metal opens the view into the movement and gives you the opportunity to observe and closely keep track of the play of time. The color transitions of the different vegetation zones on the Hochkönig mountain, from the forest to the rocks, can be found in the materials used.
Nature's strength
The automatic wooden watch Hochkönig Ebony / Olive combines clear metal shades with different types of wood with different characteristics. Your movement, your activity provides the automatic watch with the necessary energy to function. Thus the Hochglück automatic watch invites you to actively participate in life at all times and to fully live with the power of nature.