Wood Watch Sonnentaler Zebra Wood
On clear sunny days, when strolling through a forest, did you notice the bright spots of light on the soft forest floor? With ease they depict images of the solar disk in the shape of circles or ellipses and thus form unique patterns within nature. Through the small openings in the canopy, the sun is projected onto the ground as circles of light.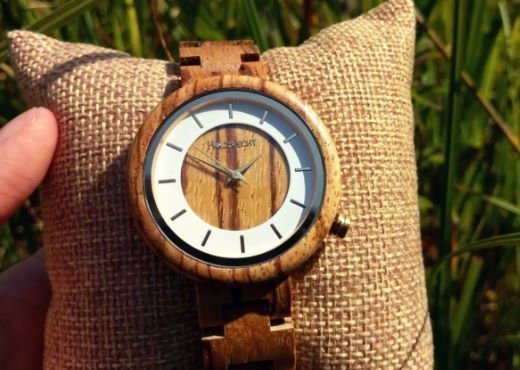 Your Sonnentaler
We have chosen this light phenomenon as inspiration for one of our ladies' wooden watches. That is why the ladies' wooden watch bears the German name of this unique sun spectacle: Sonnentaler. The Zebrano wood is, with its warm shades varying from gold to honey, alike the warming sunlight.
In their golden tones the clearly defined hands and hour markers of the wooden watch Sonnenentaler resemble the sun rays. The dial, also made out of zebrano wood and surrounded by the white copper edging even looks like one of these unique sun projections in German called Sonnentaler ("sun-coin"). As unique as nature's Sonnentaler's are, the Sonnentaler wooden watch is just as unique. Let it accompany you with the lightness of dancing Sonnentalers on your wrist, celebrating your uniqueness!