Holzspecht Wooden Sunglasses Free Sight
On your way in the great outdoors, you feel a light breeze and warm sunbeams on your skin. You will enjoy the unobstructed view of the surrounding landscape. A piece of exactly this freedom, this clear view, are the unisex wooden sunglasses Free Sight for women and men bringing to your life.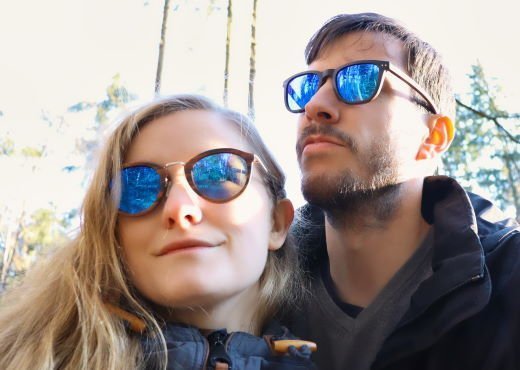 Handmade from Ebony
Hand-crafted from ebony with its special coloring and the fine rays of wood Free Sight celebrates your uniqueness. The blue, polarizing UV-400 lens for UV-A, UV-B and UV-C protection, is a colorful eye-catcher. The nose pads ensure extra high wearing comfort of your wooden sunglasses.
Free Sight for your Life
Another special detail is the engraved Holzspecht-Woodpecker on one side of the temples, which gives you lightness and embraces your uniqueness. Let the wooden sunglasses Free Sight made out of ebony accompany you through life and enjoy with Free Sight a free and clear view in life!