Holzspecht wood watch Wilder Kaiser Zebra Wood
Powerful, untamed and wild: the Wilder Kaiser ("Wild Emperor"), a section of the Kaiser Mountains in Tyrol, Austria, with its highest peak at 2,344 meters, is an impressive mountain range. When looking at it from the Astbergsee on clear days, rugged rocks and partly silvery-steely and darker layers of rock stand out impressively from the blue skies, revealing the strength and power of nature.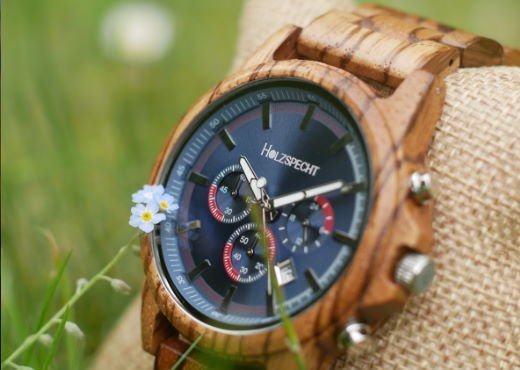 The Wild Emperor
It is this power and strength that we captured in a wooden watch for men, which therefore has the same name as this great Tyrolean mountain area: Wilder Kaiser. The partly silvery shine of the Wetterstein limestone walls mixed with the wonderfully clear blue tones of the Astberglake can be found in the dial of the Wilder Kaiser wooden watch. Reflective hands are reminiscent of the natural spectacle when the Wilder Kaiser is reflected in the Astberglake.
Wilder Kaiser is also equipped with chronographs for time measurement (stopwatch function, split time measurement, accumulative timekeeping), a 24-hour display as well as a date display so that you do not lose track of the time when looking at this magnificent mountain range. Thus with the wooden watch Wilder Kaiser for men you always keep track of time and, wherever you go, have a piece of Wilder Kaiser's untamed strength on your wrist to remind you of your inner strength.